San Francisco Bay Area, Napa and Sonoma Corporate Transportation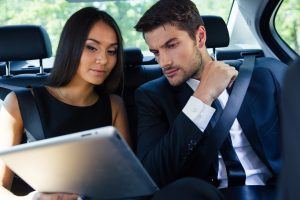 The Corporate world is a place where relationships really matter. It's a place where consistency, quality and timeliness can make or break an important business deal. It's a place where treating employees or coworkers to a good time can separate a successful company and a struggling one. Apex Corporate Transportation is your go to for any and all Corporate Transportation needs. We at Apex Corporate Transportation work directly with our Corporate clients and develop a unique and specific plan so that our services meet and exceed your needs and expectations. Taking into consideration your company's budget, the consistency and types of services you are looking for and where exactly you need to go we provide full and comprehensive corporate transportation that reflects the professionalism of any corporate setting. For those clients that are looking for a business travel transportation, we are available for drop offs and pick ups at any predetermined locations. You will be pleased by the professionalism of our drivers who always dress to impress, always are on time, and foster a professional climate from start to finish. For those looking to bring coworkers or clients on a more special adventure, we provide our corporate transportation services to and from (or within) the Sonoma and Napa Valleys – wine tours are often a perfect time to either take time away from the office with people on your team or use the informal setting as a way to conduct business in a fresh environment. For those corporate clients in need of something a bit more consistent, we also offer consistent corporate transportation. Inform our staff of the hours and days that your company needs specific transportation and our drivers will be there on time, every time. We take professionalism and safety very seriously at Apex. We understand how bad it can look in a corporate setting when the transportation does not reflect the professional environment our clients are looking for. We go the extra mile to ensure professionalism from start to finish, beginning with being on time and making sure you get to where you want to go when you want to be there. Our popular and longstanding Corporate Transportation services are available to clients throughout the Bay Area, Napa and Sonoma Counties.
Sedans, SUVs and Limousines
Our fleet of SUVs, Sedans and Limousines is slick, professional and luxurious. Each vehicle boasts it's own unique set of attributes as well as a consistency between them – the consistency of quality our clients have grown to expect from Apex Transportation. SUVs, while not the typical luxury vehicle, are a nice alternative to the normal luxury limousine. Our SUVs are roomy and equipped with fully luxurious interiors that will surely impress any client or group. For something smaller our sedans do the trick – intimate yet still a smooth ride – the luxury sedan with it's shining black exterior is as beautiful as it is comfortable. A nice choice for a one on one business conversation or for consistent corporate transportation for one or two people. For those interested in the classic and always alluring limousine, we have a fleet that varies in size and can offer you and your clients and coworkers the type of luxury you've always dreamed of. Between the finished interiors fit to sit parties of different sizes, you can't go wrong with a limousine. We at Apex pride ourselves on adapting to your specific needs both in terms of the type of service we offer as well as the type of vehicle. Rest assured that no matter what you can except top level professionalism and all around comfort from us. Give Apex a call today for a Corporate Transportation consultation where we will work to develop a Corporate Transportation plan that provides just what you're looking for at very competitive rates for the lever of service we provide.