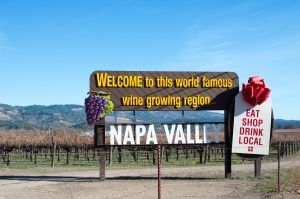 The Napa Valley is a place unlike any other. Nestled in just a bit northwest of the beautiful San Francisco, the Napa Valley is Northern California's most incredible gem. This region is known and respected throughout the United States and the world at large as a preeminent wine producing region. The Napa Valley has a long history of vinicultural excellence and consistency. The Napa Valley is blessed with the combination of fertile soil and incredible weather. This 789 square mile region is a bit warmer than Sonoma County to the west thereby making it a perfect place to produce an impeccable Cabernet Sauvignon. The Mediterranean climate combined with often foggy mornings imbues the grape varietals with unmatchable flavors. This region gets enough sunlight and rain to make it a favorite for wine producers and grape growers since the 19th century. Throughout the mid to late 19th century agriculture of all types began to pop up in the Napa Valley's fertile landscape. A consistent favorite were grape varietals that perfectly complimented the art of winemaking. Until Prohibition in the early 20th century wineries flourished throughout the region. While many went into dormancy during Prohibition a few continued to produce and master their vinicultural crafts. From the repeal of Prohibition until the 1970s the Napa Valley saw the emergence of wineries developing and producing what were set to become classic, world renowned wines. The Napa Valley made an international name for itself during the 1976 "Judgement of Paris". During a blind taste test at a world wine competition in Paris, Stag's Leap Wine Cellars and Chateau Montelena won first place. This not only shot the Napa Valley onto the map as a world respected wine producing region but encouraged others to begin producing wines in the region. The result was that many wineries began to open in the years following into the present day. The Napa Valley is now a world respected wine producing region, mastering the craft and excelling in the art of winemaking. From the first commercial vineyard set up in 1858 by John Patchett to today, the Napa Valley AVA (American Viticultural Area) has a rich wine producing history and continues to be a favorite destination for wine lovers from near and far.
Apex Transportation is your go to luxury limousine transportation provider for all things Napa Valley. We are a Northern California based luxury transportation provider. Here at Apex we focus on providing our clients with professional and luxurious as well as safe and affordable limousine, sedan and SUV transportation for all of your Napa Valley needs. Our staff is available and ready to help you develop a unique and customized itinerary to make your Napa Valley wine tour dreams come true. We offer limousines and luxury vehicles for nearly any sized group and work directly with you to ensure that our services directly and adequately match exactly what you are looking for. We employ a team of top of the line, professional chauffers who have years of experience in Napa valley area as well as pristine driving records. These professional drivers imbue a spirit of professionalism in every ride, taking your experience with Apex limousines to the next level. Our fleet of limousines is a mixture of leather seating, pristine interiors as well as consistent mechanical checks to ensure safety on every ride. We believe that when riding with Apex limos, our clients must be well assured that they are in a vehicle that not only provides premium relaxation but one that also provides the highest standards of safety.
Napa Wine Tours are by far our most popular offering. When looking for a service provider to help actualize your Napa Valley wine tour needs, look no farther than Apex limousine transportation. When exploring the Napa Valley and the limitless wineries and restaurants to choose from there is no better way to do it than in the luxury of our limos. If you are new to Napa, or would simply like some help with your tour, our staff will gladly help you develop an itinerary for the Napa Valley by suggesting premium restaurants and wineries for you and your party. A Napa Wine tour will take you through a number of different wineries exposing you to the depth of Napa Valley's wine producers. Each and every winery offers you a unique glimpse into the art of winemaking. Our Napa limousine service is the perfect way to luxuriously visit multiple wineries and get the most out of your Napa Valley experience. Our limousines are available for all kinds of transportation needs yet Napa Limousine transportation for wine tours utilizes our fleet for what they are meant for – relaxation, exploration and an experience you will never forget.
Here at Apex we offer Napa Valley wine tours but only for private parties. There are no shared services – we believe in providing our clients with a unique, individualized and wholesome experience that illuminates the finest and most exquisite possibilities the Napa Valley has to offer its guests. Our professional and experienced drivers will pick you up and drop you off at the locations of your choice. We can also bring you to and from the wineries and restaurants of your choosing. For those looking for something a little more intimate, we also offer Napa car services that take you and a special someone throughout the Napa Valley in a luxury sedan meant for two.
Apex Transportation is here to help you discover the heart and soul of the Napa Valley in the luxury and safety of a limousine. What are you waiting for? Call today – our staff is ready to help make your exploration of the Napa Valley.